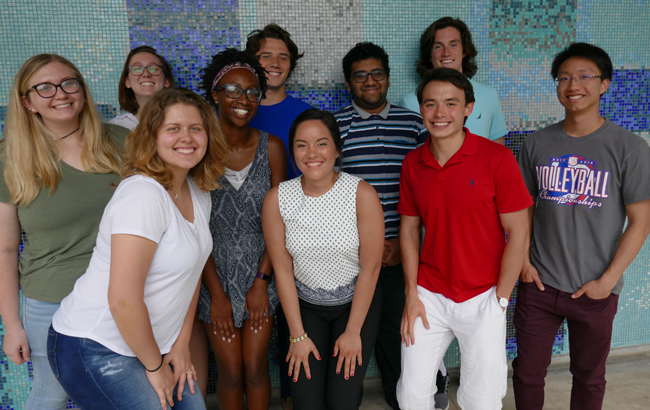 REU 2019: Courtney, Giulia, Juliana, Angela, Nicholas, Alexis, Azhar, Gregory, Chris, Victor

Project News
National presentation of a talk: Analyzing Facial Expression Data in Autism Research, Chris Fagin, Yudong Tao, Yeojin Amy Ahn, Laura Vitale, Daniel Messinger. 2020 National Joint Mathematics Meeting, MAA General Contributed Paper Session on Interdisciplinary Topics in Mathematics, Denver, Colorado, January 15–18 2020.
National presentation of a poster: An Investigation of Congenital Agenesis of the Corpus Callosum, Alexis Delgado, Jason S. Nomi, Bryce Dirks, Lucina Q. Uddin. Research Experience for Undergraduates Symposium, Alexandria, VA. October 27-28, 2019.
REU-CFS in the news: Students gain valuable research experience, by Janette Neuwahl Tannen. News@TheU. July 25, 2019.

Project Summary
Computing for Structure is an NSF Funded Research Experience for Undergraduates, created and directed by the University of Miami Department of Computer Science and Center for Computational Science. The program ran from Sunday, May 19 to Sundary, July 28, 2019 with the following REU student researchers:
Giulia Bronzi, Wellesley College
Nicholas Cimaszewski, University of Rochester
Alexis Delgado, Avila University
Chris Fagin, Christian Brothers University
Juliana Hemela, UNC Chapel Hill
Gregory Hubbard, Old Dominion University
Victor Jann, University of California, Berkeley
Angela Kihiko, Spelman College
Azhar Moihdeen, Georgia Institute of Technology
Courtney Sever, Florida State University
Joining us for the poster session were two young researchers from Prof. Milenkovic's REU Supplement NSF grant,
Allan Gelman, MIT
Danny Gelman, MIT
The REU experience concluded with a poster presentation and closing ceremonies, on Friday, July 26, 2019. This presentation was held at Schoninger Quadrangle on the UM Medical School campus, in coordination with the Summer Undergraduate Research Fellowship Program (SURF).
There was a judged competition for the top three posters:
Guilia Bronzi, First Place.
Chris Fagin, Second Place.
Victor Jann, Third Place.
The P.I. for the REU is Prof. Rosenberg of the Computer Science Department, but the real work went to the many mentors, listed as co-authors of the student presentations. These mentors were drawn from across the university, and volunteered to mentor the participants.
REU Program
Sunday, 19 May

Housing Opens

Monday, 20 May

Boot camp begins, 9:30am at Ungar 330.

Monday, 27 May

Memorial Day!

Wednesday, 29 May

Afternoon: Meet the Mentors

Thursday, 30 May

Research program with mentor begins

Tuesdays, 4 June–9 July

Mentor Seminars, 3:30pm–5:00pm Ungar 330.

Wednesdays, 5 June–TBA

Workshops in Computation / Career Development, 9:30am–12:00pm Ungar 330.

Friday, July 26

Poster Presentation in the Atrium of Cox Science / Program closes

Sunday, 28 July

Housing Closes
The
Welcome Page
gives information about places to go and restaurants; as well as the todo list for program onboard.
The
recruitment page
is archived.
There is our
Calendar
Boot Camp:
The Boot Camp Morning Sessions are 9:30am – 12:00pm and the afternoon sessions are 1:30pm – 4:00pm. Both sessions are at the Computer Science computer lab, on the 3ird floor of the Ungar Building. See my github for the templates. The tentative plan of study:
Week 1:
Monday:
AM: Welcome program;
PM: Python programming with Jupyter (Rosenberg and Wang)
Tuesday:
AM: Python II (Rosenberg);
PM: Python III (Rosenberg)
Wednesday:
AM: Unix environment (Wang);
PM: Numpy: Scientific Computing in Python (Rosenberg)
Thursday:
AM: Matplotlib (Wang);
PM: Scientific Programming DNA (Kocak and Basar)
Friday:
AM: Intro to Bioinformatics (Wang);
PM: Scientific Programming DNA (Kocak and Basar)
Week 2:
Monday: Memorial Day!
Tuesday: Machine Learning (Odelia and Garcia) github
Wednesday: see Special Continuation for May 29th.
PM: Meet the Mentors 2:30pm–4:00pm
Special Continuation:
Wednesday, 29 May

Prof. Donald Olson, RSMAS, Climate Forecasting Problem 9:30am–1:00pm;

Wednesday, 5 June

Prof. Donald Olson, RSMAS, Modeling Life and Evolution 9:30am–1:00pm;

Wednesday, 12 June

Prof. Rosenberg, Python Workshop 9:30am–1:00pm;

Wednesday, 19 June

Prof. Rosenberg, GPU/Cuda Workshop 9:30am–1:00pm;

Wednesday, 26 June

Prof. Rosenberg, GPU/Cuda Workshop (Part 2) 9:30am–1:00pm;
Mentors Seminars
A series of afternoon lectures devoted to an overview of specific research topics, relevant to the REU theme, by mentors. On Tuesdays at 3:30pm—5:00pm, in Ungar 300.
4 June

Prof. Orland Acevedo, Chemistry. Chemistry and Computation

11 June

Prof. Odelia Schwartz, Computer Science. Learning and Computation

18 June

Prof. Uddin, Psychology.

25 June

Prof. Mitsu Ogihara, Computer Science. Humanities and Computation

2 July

Prof. Daniel Messinger and Prof. Laura Vitale, Psychology.

9 July

Prof. Vance Lemon

16 July

Prof. Milenkovic
Professional Development Workshop
In coordination with SURF, Summer Undergraduate Research Fellowship, a series of weekly workshops to help new scientist develop in their field and understand their future options. Generally Friday, with exceptions underlined.
Friday, 31 May

Reading and Critiquing Scientific Literature, OGPS Panel.
― SCCC 1301, 12:00pm–1:30pm.

Friday, 7 June

Graduate and Medical School Opportunities,
― RMSB 6018, 12:00pm–2:00pm.

Thursday, 13 June

Advice and Lessons from my Career Trajectory, Dean Guillermo Prado
― RMSB 1121-B, 12:00pm–1:30pm.

Friday, 21 June

Diversity and Inclusion in the Sciences, Dr. Symes,
― SCCC 1301, 12:00pm–1:30pm.

Friday, 28 June

Transitioning to an Independent Academic Career, Dr. Rai,
― SCCC 1301, 12:00pm–1:30pm.

Monday, 1 July

Scientific Ethics and Misconduct, Dr. Salas,
― RMSB 1121-B, 12:00pm–1:30pm.

Tuesday, 2 July

Tips for an Effective Research Presentation, Dr. Emre Dikici.
― RMSB 1121-B, 12:00pm–1:30pm.

Thursday, 11 July

Destination - Passion. My road to a Career in Academia. Dr Sophia George,
― RMSB 1121-B SCCC 1301, 12:00pm–1:00pm.

Friday, 19 July

Research Outside of Academia: Industry, Dr. Head and David Robbins.
― SCCC 1301, 12:00pm–1:30pm.

Friday, 26 July

REU/SURF Poster Session.
― 9:00am–3:00pm TBA
Room Locations:
SCCC 1301

Sylvester Comprehensive Cancer Center 1475 NW 12th Avenue, 33136

RMSB 6018

Rosensteil Medical Science Building, 1600 NW 10th Avenue, 33136

RMSB 1121-B

Rosensteil Medical Science Building, 1600 NW 10th Avenue, 33136 (1st Floor)

Mentorships
Computational Chemistry

Prof Acevado

Digital Humanities

Prof Mitsunori Ogihara

Miami Project to Cure Paralysis

Prof Lemmon
Prof Wang

Neural Networks

Prof Schwartz
Luis Gonzales

Neuroscience

Prof Uddin
Jason Naomi

Psychology

Prof Messinger
Laura Vitale

Visualization

Prof Milenkovic
With help and guidance from:
The SURF Program at the Miller School of Medicine

Priyamvada Rai, Ph.D., Director of SURF
Sarah Sandiford
Santos Cayetano
Theresa Votolato
Rositsa Kalinova

Center for Computational Science

Dr. Tsinoremas, Director CCS
Joel Zysman, Director of Advanced Computing at CCS
Kalan Dawson
Pedro Davila

Department of Computer Science

Prof. Sutcliffe, Chair Computer Science
Prof. Huseyin Kocak
Prof. Basar Koc, Stetson University
Julie Garcia, Project Administration and Manager CSC

Poster Judges

Batya Elbaum, Department of Teaching and Learning, Department of Psychology
Salome Kornfeld, Department of Psychology
Lynn Perry, Department of Psychology
Yudong Tao
Stefan Wuchty, Computer Science

Office of Research

Tracy Ehrlich
Norma Cajina
Sponsored by the National Science Foundation
The NSF has set up the REU program in order to involve students in meaningful ways in ongoing research programs so as to attract talented students into careers in science and engineering.
Support for the program REU Site: Scientific Computing for Structure in Big or Complex Datasets is by the NSF grant CNS-1659144, program solicitation NSF 13-542, Research Experiences for Undergraduates (REU).
Prof. Milenkovic's REU Supplement was funded by NSF grant CCF-1526335.